The Swimming Pigs Day Tour Includes 7 Stops
Pig Beach is just one of the many attractions the Exuma Cays offers. On your day tour, you will have seven exciting experiences.  Your tour guide will share exciting facts about the history and culture of The Bahamas. 
Meet the Original Swimming Pigs at Pigs Beach! Dive into an unforgettable experience as you get up close and personal with these world-famous pigs. Feed, admire, and create lasting memories with these incredible creatures.
Discover the mesmerizing beauty of Pipe Cay Area Sand Bar with its breathtaking white sand that appears and disappears with the rhythm of the tides. Prepare to capture unforgettable moments and create envy-inducing Instagram posts at this stunning location.
Experience the world-famous Staniel Cay Yacht Club on our exclusive day tour. Enjoy lunch at this renowned destination (lunch cost not included).
Snorkel Thunderball Grotto, a naturally occurring cave, offers an incredible stop and snorkel opportunity with stunning coral and sea life. Made Famous in the James Bond Film Thunderball.
Experience the extraordinary on Iguana Island – home to a thriving population of rare rock iguanas found nowhere else.
Explore the breathtaking sunken plane wreck near Staniel Cay on an unforgettable snorkeling adventure.
It's a of one-of-a-kind experience!
Day Tour Schedule
Note: All times are approximate
6:30 AM: Check-in at Fort Lauderdale Executive Airport
7:30 AM: Flight Departs
8:45 AM: Arrival at Bahamas Immigration and Customs
9:15 AM: Arrival at Staniel Cay & Escort to Marina
9:30 AM: Guided Boat Tour Begins
1:00 PM: Lunch at local island eatery*
4:30 PM: Returning flight departs Staniel Cay
6:00 PM: Approximate Arrival at Fort Lauderdale Executive Airport
Hover & Click to Learn More!
Experience the Unforgettable: A Visit to the Swimming Pigs on Pig Beach
Celebrate my birthday with friends at the famous Pig Beach? Check. Crystal-clear water and adorable pigs swimming? Check. Little did we know, this would be a moment we'll never forget!
We joined Bahamas Island Travel and Makers Air and headed to Staniel Cay in the Exuma Cays. Our boat captain whisked us to Pig Beach, and as we approached, our excitement soared.
Then came the highlight: pigs swimming in the ocean! As we arrived, the pigs eagerly joined us, poking their snouts above the water in search of treats. Screams of joy and laughter filled the air.
Swimming with the pigs and savoring the breathtaking views of Pig Beach, we cherished every moment. As we bid farewell, promising to return, we couldn't help but reflect on the incredible experience. Off to our next stop!
A trip to the Swimming Pigs on Pig Beach is a must-do for anyone visiting the Bahamas. It's a one-of-a-kind adventure filled with adorable and friendly pigs whose zest for life is infectious. Trust me, this is an experience you'll cherish forever.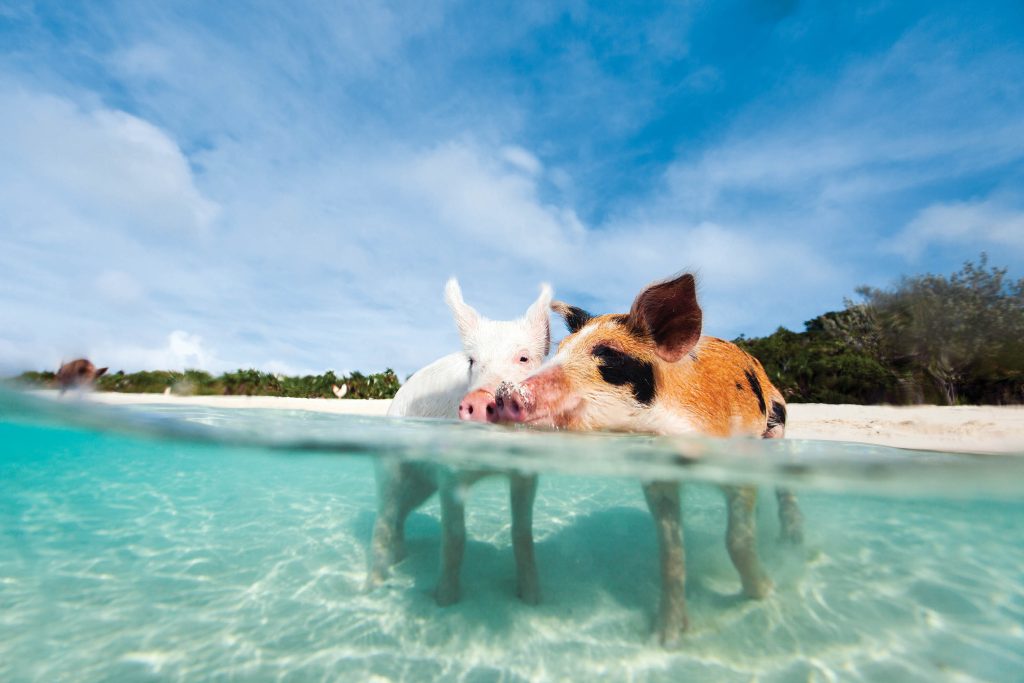 Booking your Swimming Pigs Day Tour
Are you ready to book your visit to Pig Beach? We at Bahamas Island Travel can help you plan the perfect day trip to this amazing destination. Our tours are designed to be fun, informative, and safe. We use only the best boats and equipment to ensure your comfort and enjoyment. You can reach us at (954) 900-2739 to learn more about our tour packages.
Pig Beach is a must-see destination for anyone visiting The Bahamas. It offers a unique opportunity to get up close and personal with famous swimming pigs. Whether you are traveling with your family or friends, there is something for everyone to enjoy on a day tour to Pig Island. So what are you waiting for? Book your tour today and experience the magic of Pig Beach for yourself!
Contact Bahamas Island Travel
For Upgrade Options
Day Tour Includes
Airfare and customs clearance fees to and from the Bahamas
Boat and personal Captain and tour guide for the day
Snacks and drinks on the boat
Fluffy Towels
Sunscreen
Dates: Daily All Year
Available as a Group or Private Day Tour
Group Rate Per Person $875 + T&F Low season ($1102.10 total) 
Group Rate Per Person $949 + T&F High season ($1176.10 total)
Group rates at even more savings are available. For parties of 7 or more, please call!